A proven blend of classroom instruction and range riding, the Rider's Edge® New Rider Course in Louisiana delivers the basics of motorcycle operation in Harley-Davidson® style. You'll learn from devoted instructors certified by both the Motorcycle Safety Foundation® (MSF) and Harley-Davidson® to create a relaxed, supportive environment that fosters camaraderie and confidence. And after passing a written and riding skills evaluation, you'll receive an MSF Rider Course Completion Card, as well as possibly qualify you for discounts on insurance. But more than that, you'll begin a journey that lasts a lifetime.
Our new riders learn to ride in right here at the Renegade Harley Dealership.
 
Upcoming New Rider Course Classes

May 16th-19th
May 23-26th
May 30th-June 2nd

June 13th-16th

June 20th-23rd
July 11th-14th
July 18th-21st
July 25th-28th


Upcoming Skilled Rider Course Classes
Classes Coming Soon!

Get the feel for a Harley on our Jumpstart at Renegade H-D!

Requirements
To take the course, you will need:
1.  To know how to ride a bicycle
2.  Have a valid automobile driver's license or learner's permit
3. Range riding gear includes; Jeans, sturdy over-the-ankle boots or shoes, full-fingered motorcycle gloves, a heavy long-sleeved shirt or jacket and protective eye wear.
4.  A helmet that meets DOT specifications.


About the Motorcycle
You'll be riding a Buell Blast From Renegade Harley-Davidson, a light, easy to handle sport bike with a rider-friendly design that will have you feeling in control.
No Refunds Given if a Student:
A. Misses any portion of the required classroom or range time for any reason
B. Is dismissed from class for unruly / unsafe actions
C. Drops out
D. Is disrespectful or reckless and a dismissal is required
E. Arrives at the range without required safety gear
F. Fails riding test or written test
G. There will be a $100.00 re-schedule fee if you do not make your scheduled class date.





We are now taking student applications for our Basic Rider Classes Classes. For questions, Please Call 1-866-266-3300  and ask for our Rider's Edge Dept. You can also contact us via Email: RidersEdge@RenegadeHD.com.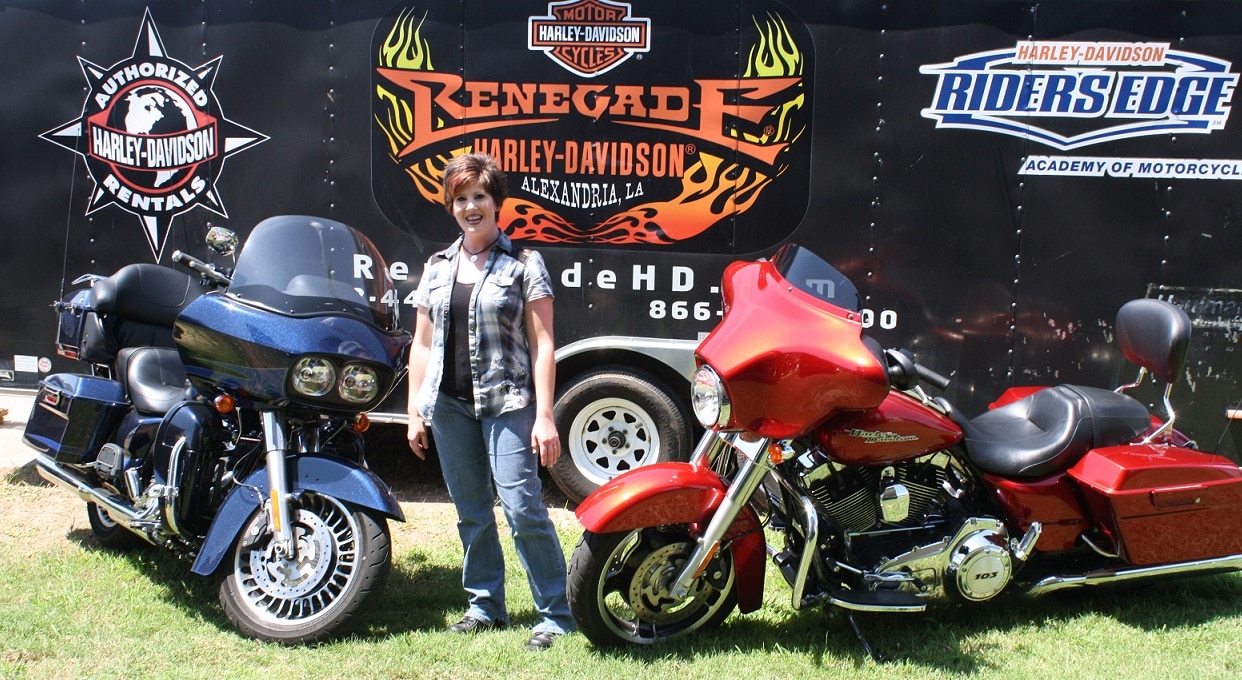 Becky Stafford, Rider's Edge Manager
(866) 751-2720 or (318) 448-1509 or email Becky@RenegadeHD.com