Welcome to Alexandria, the heart of Louisiana.
Central Louisiana or "CENLA" is a place where all of Louisiana comes together - from culture to food to music. Rich in history, the Alexandria area rivals New Orleans for the number of places listed on the National Historic Register. Most importantly to our riding community, the CENLA area has incredible roads and scenery in which to RIDE! From the hauntingly beautiful swamps to the lush green countryside there is a road for everyone.
Renegade Harley-Davidson is proud to be part of the 2011 Louisiana HOG State Rally. Our team is dedicated to making your stay with us as rewarding and fun as possible.

Stop by Renegade Harley-Davidson for your FREE area map and a friendly recommendation. Our staff is made up of well seasoned riders who are always happy to offer advice on day trips, where to find the best Cracklins or an incredible plate lunch. Need a quick tune up? Our Master Techs are committed to putting you back on the road quickly and efficiently. Renegade will also be offering Road Side Assistance to any HOG Member within a 30 mile radius. Remember our number. 866-266-3300
Perhaps one of our area's biggest attractions is its centralized location. Arkansas, Mississippi, Texas and all of Louisiana are all easily accessible. Central Louisiana has become known as "The Crossroads," a place where all of Louisiana comes together - from culture to food and music.
Here, we enjoy the warmth and community of small town life with all the benefits of big city living.

On the banks of the Red River, Alexandria offers plenty of amenities and recreational activities. We also boast an acclaimed zoo, world-class golf courses, historic homes, great shopping and entertainment. Need to be one with nature? Surrounded by the Kisatchie National Forest, bikers, hunters and nature observers find themselves in heaven here.

Our 2011 HOG State Rally will be held at the Rapides Parish Coliseum. There will be plenty of shopping and entertainment both at the Rally Site and here at Renegade Harley-Davidson. Join us for breakfast burritos, guided Dealer rides, and good old fashioned southern hospitality at any time.

Don't miss our Dealer Party, March 31st for the HOG Event of the year as we kick off the festivities with authentic Louisiana home cooking and a Traditional Burlesque Show. It will be a night to remember!

Please stop in and introduce yourself. Look for our world map and show us where you're from. The person who's travelled the furthest will receive a special gift from Renegade.

We truly look forward to sharing the experience of the 2011 Louisiana HOG State Rally with you in March!

Sincerely,

The Renegade Harley-Davidson Team
2030 North Mall drive
Alexandria, Louisiana 71301
866-266-3300
RenegadeHD.com

Rally Schedule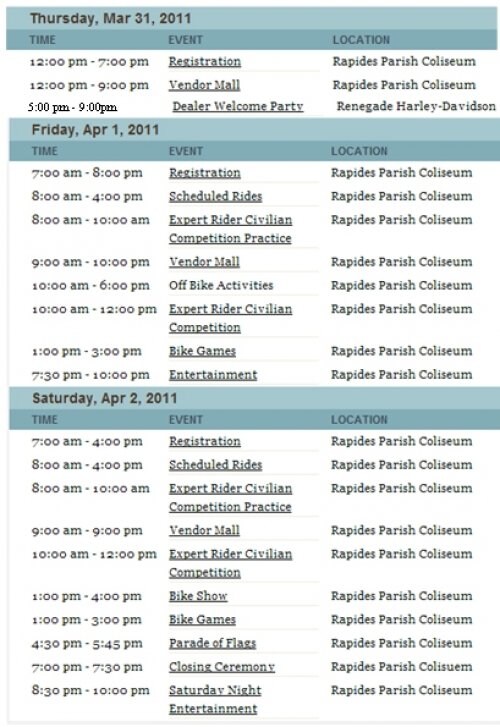 Letterfly Pinstriping at Louisiana State Rally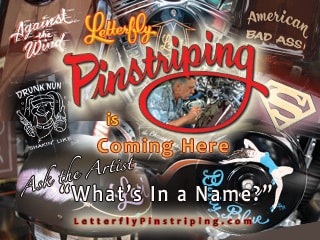 "Kickstart," "Bar-Ho," "Stogie," "Mister Wonderful," "Moose" and "Buckshot" are all colorful names that provoke a visual. Many ways of complimenting the appearance of your Harley-Davidson motorcycle exist and commissioning a hand lettered name on your bike is perhaps the simplest way of personalizing your scoot. Couples identify their bike and renew their commitment to each other with a lettered sentiment, and many phrases such as "Save the Ta Tas",? evoke a laugh and elevate a cause. Others, such as "All Gave Some, Some Gave All" touch an emotional nerve, ?Cherish the Magic? reminds us to seek gratitude this day and, "Smile, I'll do the Rest" effectively gets a specific message across to the viewer. During the limited time that Letterfly the pinstripe and mural artist is at our store, you will have an opportunity to have a custom inscription created that will make the statement you want to get across to others and distinguish your bike from the rest.

Letterfly will serve our customers during our "Dude It Up" weekend and you are encouraged to come to the store and watch as Old School designs, flames, pictorials, inscriptions and artwork are created on the spot for you, as a dedication inspired, value added service

For more information on Letterfly Pinstriping, visit letterflypinstriping.com
PLACES TO STAY

Last minute rooms!
Alexander Fulton Hotel in Downtown Alexandria next to the Red River
$65 per night to all HOG Rally Attendees.
Contact Shayla at 318-442-9000



THINGS TO DO

For a complete list of area attractions and recommendations please visit the Alexandria Pineville Area Convention and Vistors Bureau Website. www.apacvb.org

Here are some of our picks:

1. Alexandria Zoological Park (www.thealexandriazoo.com)
Get face to face with wildlife at Central Louisiana's #1 educational, family tourist attraction. Visitors of all ages can reconnect with nature in a beautiful, natural setting that is home to more than 500 animals, including over 25 threatened or endangered species. Popular animals include white tigers, lions, bears, crocodiles, monkeys, and flamingos. The award-winning Louisiana Habitat Exhibit and African Experience
Hours: 9:00 am - 5:00 pm daily (Closed Thanksgiving, Christmas, & New Year's Day)
Gift Shop, 10:00 am - 5:00 pm
Admission: $5.00 adults 13-64; $3.00 kids 4-12; $2.00 seniors 65+; Free to kids 3 and under.
2. Kisatchee National Forest
Our very own Kisatchie National Forest has 600,000 acres that offer hiking tours, endangered species, geological sites, tree identification, horseback riding and biking trails.
3. Water Sports
Indian Creek, Cotile Lake and Kincaid Lake all offer opportunities for water sports, fishing, camping and hiking. If canoeing is more your idea of fun, be sure to visit Ouiska Chitta River and Kisatchie Bayou. River tours are available to help you relive the history of our area's majestic Red River. First-rate fishing organizations find the Red River a 'hot spot' for state and national bass tournaments. If high-speed motorboat racing is what you like, don't overlook Lake Buhlow in Pineville...also known as the fastest lake in the world.
4. Golf
Links on the Bayou, the City of Alexandria's newest, 18-hole public course, is a true treasure. The semi-private Oak Wing golf course is a member of the prestigious Louisiana Audubon Golf Trail. Our golfers paradise is also home to 2 additional 18-hole private Country Club courses, two 9-hole public courses, 1 additional 18-hold semi-private course and a 300-yard driving range.
5. The Tree House
TREE House is a children?s museum featuring hands on interactive exhibits. Exhibits include items such as an antique fire engine, pin screen, shadow room, the Rockwell Railroad, and much more! Great for birthday parties and field trips, the museum is located in downtown Alexandria.
1403 Third Street
Alexandria, LA 71301
(318) 619-9394
Web: www.kidstreehouse.org
6. Buhlow Fun park
Located on beautiful Buhlow Lake in Pineville. Offering: Go Kart Rides on a cool track Batting cages, fun for all ages 18 hole miniature golf course Arcade games
1715 Monroe Hwy.
Pineville, LA 71360
(318) 442-5110 (318) 442-5110
Contact: Francis Harper
Friday 3:00pm - 10:00pm
Saturday 12:00pm - 10:00pm
Sunday 12:00pm - 8:00pm
7. Coughlin Saunders Performance Hall
The Coughlin-Saunders performing arts center is a state-of-the-art 614 seat theatre maintained by the Arts Council of Central Louisiana and located in the vibrant cultural district of downtown Alexandria. With a beautiful theater, lobby and patio, this facility can be used for a variety of events including wedding receptions, meetings, and theatrical productions. A technical staff and affordable rates make this facility an exciting venue for central Louisiana.
Visit the Coughlin-Saunders Performing Arts Center for the best entertainment and performing arts in Central Louisiana. Residents and tourists alike will enjoy the hottest tickets in town to live theatre, from drama to musicals, dance, from jazz to ballet, and music, from the blues to symphony.
Web: www.letusentertain.com

8. GG's Club
7521 Coliseum Boulevard
Alexandria, LA 71303
(318) 473-4944
http://www.ggshinnclub.com

When the Rally cools down, GG?s Heats Up!

Across the street from the Coliseum, GG?s welcomes all Rally participants with open arms and Rock Star parking. Drink Specials and special bike parking await you at GG?s. Low cover charges and ladies get in free at midnight and all military receive $5 off.

Live music and a huge dance floor. Rally with GG?s!

Don?t miss the GG?s Bikini Bike Wash at Renegade H-D Friday, April 1st from 11-3!



RESTAURANTS
Renegade Recommends:
1. Swamp Daddys- 55 MacArthur Drive
Alexandria, LA 71303-3648
(318) 443-1787
If you want crawfish made the Louisiana way, THIS is where you go. Dine In or Carry Out
2. Eddies Barbecue- 1024 MacArthur Drive, Alexandria - (318) 473-
Best Ribs in town and the Dirty Rice is NOT to be missed. H.O.G. Owned and Operated!
3. Tunks Cypress Inn- 9507 Louisiana 28 Boyce, LA 71409 - (318) 487-4014
Fine Dining with the best view in town. Try the Snapper Sandy and make sure you begin your meal with Sefood Gumbo or Fried Gator.
4. Lil Cajun House- 2154 N Mall Dr # A2 Alexandria, LA 71301 (318) 787-6046
PoBoys and Live Music on weekends

5. Bellinos- 4619 Jackson Street Ext Alexandria, LA 71303-2557
(318) 767-5980
Dark, quiet and quaint. Fine Italian Dining at it?s best. Very romantic!

6. BJ's Pizza- 902 Versailles Boulevard Alexandria, LA 71303 (318) 448-4104
Best pizza in town. Available for limited delivery and carry out.
7. Lea's Lunchroom- 1810 Highway 71 S. Lecompte, LA 71346 (318) 776-5178
When you want pie this is where you go. Great ride too.
8. Robbie G's- 5859 Jackson Street Ext, Alexandria, LA 71303 318-443-
Excellent Crawfish! Hot and Fresh!
9. Buffalo Wild Wings- 2711 South MacArthur Drive ALEXANDRIA, LA 71301
Hot Wings and Cold Beer? Need we say more?
10. Spirits Food and Friends- 1260 Texas Ave # H, Alexandria - (318) 445-4491
Good food, good bar. Huge fresh salads!
CAMPING & RVING
Renegade Recommends the following recreational areas for Camping & RVing:
Indian Creek Reservoir
Cotile Recreation Area
Kincaid Recreation Area and KOA